HomeGrown Wellness Store
Scroll down and see how Stephanie can help! If you have any questions on the products, programs and services on this page Stephanie is happy to chat. Schedule a complimentary 30 minute wellness consultation with Stephanie HERE .
Are You A Wellness Seeker Who Is Ready To Start Living Your Best Life Yet……
Stephanie provides a variety of products, programs and services to support you no matter where you are on your health and wellness journey. Hundreds of wellness seekers just like you, have used these products, programs and services to lose weight, increase their energy, heal and further their knowledge on living a healthy lifestyle.
This is for you if you need a quick and easy way to get started with healthy eating……
STEPHANIE'S 10 DAY GREEN SMOOTHIE CHALLENGE EBOOK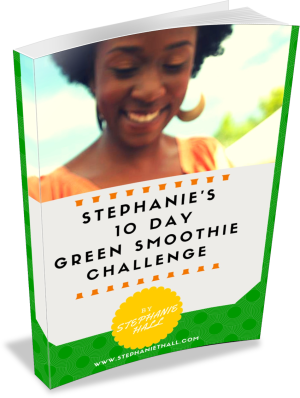 Get a copy of my most popular eBook delivered directly to your inbox TODAY. Learn how to effortlessly start increasing your intake of fresh fruits and veggies for increased energy, weight loss and glowing skin. Inside of the 10 Day Green Smoothie Challenge Ebook you will also learn my easy to follow formula for creating your own green smoothies way after the 10 day challenge is over. Plus I'm going to share with you some of my favorite smoothie boosters that are great for your skin, that naturally curb the appetite while still nourishing your body, that stabilize your blood sugar levels and that help to balance those hormones. Get started on your path to wellness with some of my absolutely favorite green smoothie recipes.
Click HERE to download your copy RIGHT NOW
I'm still going strong with my green smoothies and I feel like I have so much more energy. Just feeling really good Thank you!!!
Chauntey G. – Aldie, VA
I absolutely loved the 10 Day Green Smoothie Ebook!!! There are so many other smoothie books out there, but I'm glad that I chose this one. I love that it included tried and true recipes that are easy to make, but I really enjoyed how Stephanie shared her basic formula so that I could create my own recipes!!! Another reason that I love the book is because it wasn't gimmicky. Stephanie promotes good overall health, and I appreciate that. It makes me feel good about incorporating things that I learned from her. Previously I had been struggling to get the recommended servings of fruits and vegetables every day. The smoothie recipes made it easy for me to incorporate more plant based nutrition into my diet.
Yvonne J. – Atlanta, G
This is for you if you are curious about raw vegan cuisine and how to get started……
EVERYTHING RAW 7 DAY MENU PLAN AND RECIPE GUIDE (PLUS BONUS JUMP START GUIDE)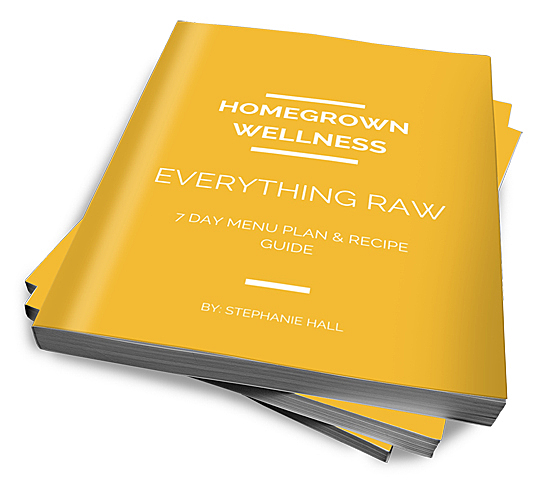 Prepare to start making healthier choice for 7 days straight!! Inside of this guide I help to eliminate the overwhelm of  eating raw and making healthier choices. You can expect for me to walk with you every step of the way through grocery shopping and food preparation. Plus my very special bonus introduce your further to raw vegan cuisine, kitchen essentials, raw snacks and healthy substitutes for your biggest guilty pleasures.
Click HERE to download your 7 DAY MENU PLAN, RECIPE GUIDE and BONUS JUMP START GUIDE
Stephanie has really helped me get started on a wellness and healthy eating journey. Her food is delicious – especially the raw cheesecakes! The only better thing than her food is her knowledge and attitude – she is a wealth of knowledge on nutrition and preparing your body to be at its best. She is also extremely supportive and encouraging, even with people like me who occasionally "backslide." I am so happy to be a part of her raw foods and healthy living community.
April Morgan – Washington, DC
So let it be known…..Stephanie Hall is one of the best things to come into all of our lives. She makes "UN'Cooking taste good!!
Tarek Stevens – Washington, DC
This is for you if you are ready to lose weight, eliminate cravings, increase your energy and further your knowledge on healthy eating……
THE WAIST MANAGEMENT CLEANSE 28 DAY ONLINE PROGRAM
Have you been wanting to cleanse your body of unwanted toxins and waste but not exactly sure where to start?
Is your waist line continuing to grow year after year and forcing you out of the clothes that you love?
Are you ready to lose weight, reduce cravings, elevate your energy levels, experience on going anti aging benefits and eliminate sickness and disease?
Discover how the Waist Management Cleanse program provides you with an easy to follow system for weight loss and maintaining your weight loss in just 28 Days. It's different than anything else on dieting and detoxing that you've seen.
CLICK HERE TO LEARN MORE ON HOW TO GET STARTED NOW
Stephanie I'm down 21 pounds and I'm so excited about it. I'm incorporating a lot of what I've learned from you……and I'm incorporating more fresh "live" foods. I just wanted to say THANK YOU for laying the foundation. I was actually listening and applying what you said!!!
Natasha Bynum – Norfolk, VA
My biggest AHA moment during The Waist Management Cleanse is the way you feel with what you are eating. Considering that I grew up on steak and potatoes from the Midwest. I feel so much better now. My mind is so much clearer. This whole process has just been amazing. The one thing that I have really enjoyed is that the taste of the food is wonderful. I really have enjoyed all the recipes that you have given us. The amazing thing is that it has not been two weeks and I have lost a total of 14 pounds just changing this much so far. During the cleanse I have also been helping my mom to change her eating habits and she also lost a total of 8 pounds. Thank you so much for your help!!!
Andrea – Northern VA


PERSONALIZED COOKING CLASSES
Do you struggle with making healthy foods taste good?
Are you bored and tired of preparing the same recipes over and over again and in desperate need of more variety so that you can stay consistent with eating healthier meals?
Do you find it overwhelming when searching for recipes online only to find that they taste horrible once you try to replicate them in your own kitchen?
Are you ready to save time inside of the kitchen with planning and preparing your weekly meals?
Join me in the comfort of your own kitchen where I'll share with you  how to incorporate some of my most tried and true recipes that are not only healthy but loaded with flavor that you and the whole family will love.  During our time together I'll educate you and personally show you how to save time in planning and preparing healthier meals. You will also learn how to apply simple and exciting food preparation techniques to recreate some of your favorite dishes and finally you will enjoy the endless possibilities that you can create with fresh whole foods.
CLICK HERE TO LEARN MORE AND TO JOIN STEPHANIE INSIDE OF THE KITCHEN
I would love to show you how to effortlessly incorporate healthier alternatives into your diet RIGHT AWAY!!!
I have gained so much knowledge about healthier eating from the personalized cooking classes with Stephanie. I was ready to make changes to improve my health and since implementing more fresh foods and the recipes and techniques learned from the personalized classes with Stephanie, I have experienced more energy, weight loss and a clearer complexion. This has been a wonderful new journey for me!!! I will be signing up for more classes and encouraging my friends to participate. I have also been sharing my food with colleagues and trying to educate them about healthier eating and nutrition
Sheila Johnson CEO Salamander Resort and Spa – Middleburg VA
The one on one boot camp series was an investment in my health and it was definitely worth it!! With all of the new recipes that I've received I've been able to add a lot more options to my meal planning. I've also learned how to cut down my time inside the kitchen when it comes to preparing healthy meals by putting to use some of the equipment that you exposed me to during our time together. I also really liked how the boot camp focused on one meal portion at a time so I was able to digest everything without feeling overwhelmed.
Takiyah Parrish – Sterling, VA
THE RAW SOLUTION DETOX PERSONAL CHEF SERVICE
Do you feel overwhelmed by all of the planning that goes into eating raw and staying on your healthy eating regimen?
Do you want to have more time to focus solely on your work, building new relationships and living without having to map out a menu plan?
Do you have to have your green juice and green smoothies in the morning?
Is eating clean super important to you and keeping your weight within your ideal range for your health and vanity of course?
The raw solution is a personal chef service customized to accommodate clients who consume an all plant based diet or for clients who are attempting to incorporate healthier alternatives into their existing diet. HomeGrown Cuisine is committed to helping you to stay on your healthy eating regimen and doing all of the hard work of menu planning, grocery shopping, meal preparation, cleanup and the packaging of your delicious healthy dishes so they are all ready for you to grab and go. HomeGrown Cuisine knows that our clients are busy and have limited time and availability so we provide flexibility based on the clients needs to include delivery, food preparation on site and travel to the client's desired location based on chef availability.
CLICK HERE FOR MORE DETAILS ON EATING CLEAN 
I wanted to let you know (again) that all of the food was delicious…..Because I am such a slave to "structure" with my weight loss journey I have to say these past 3 days were refreshing from the standpoint that I was eating food good for me, delicious and most importantly without having to count points, weigh ounces etc. These 3 days I haven't had to think (or rethink) what I've been eating. Thank you again for all of the work you did in preparing these dishes and the different perspective about overall health and life that you provide
Chernika Young – Woodbridge, VA
What I like best about the raw solution is that it's so easy and it makes me feel good. The benefits that I experience while participating in the detox is more energy and weight loss.I would definitely recommend the Raw Solution Detox to those who need help with re-setting their system and eliminating cravings.
Amy Bass – Sterling, VA
SPEAKING AND HEALTHY EATING DEMONSTRATIONS
Get ready to inspire your organization and/or the attendees of your next event with practical tips and strategies that they can start using RIGHT AWAY on living a healthy lifestyle . Learn how to combat the obesity epidemic and diseases like diabetes, high cholesterol and heart disease with food and lifestyle choices.
Stephanie is an experienced and engaging wellness speaker that specializes in educating, motivating and equipping audiences with practical tips and strategies for living a healthier and happier lifestyle. Stephanie has shared the message of healthy eating with hundreds of people and has experience speaking to schools, faith based organizations, government agencies, conferences, and both large and small corporations PLUS MUCH MORE.
Thank you Stephanie for your amazing presentation yesterday on- "Living an Energized Life".. Folks were inspired! My colleagues are still talking about it.. And Im making your kale salad tonight!!
Kelli G (Director of Resources) – Washington, DC
Steff….the class was wonderful. Your presentation was great and the food was a delight!!!! I highly recommend this class to everyone!!! If you want to take care of your temple that God gave you charge over this is it!!!!! We made the Pina Colada. My husband loved it. Fresh vanilla bean, fresh coconut water, coconut and agave. I believe we can do this!!!!
Alison Frazier – Martha's Vineyard, MA