Are you ready to SAY GOOD BYE to spending money on unhealthy foods that are making you sick  and START eating for increased energy, weight loss and optimal health?
No, it's not impossible. You really can eat healthy and enjoy what your eating all without feeling stressed and overwhelmed about the time that goes into cooking and meal prep.
Does any of this sound familiar?
Your job keeps you busy and eating healthy turns into whatever is quick and easy
You don't know the right foods to eat and are afraid that healthier options will not taste good
Cooking and going to the grocery store isn't your favorite thing to do and if a recipe is too time consuming and difficult to prepare then you likely won't do it
You need to lose weight and incorporate more plant based foods into your diet but don't know where to start
Your health is in jeopardy and your diet needs to change RIGHT NOW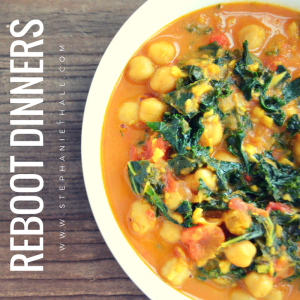 If any of this sounds familiar, I have GREAT news. I have the PERFECT solution to help you start eating healthy right away, shed unwanted weight and began fueling your body with high quality foods for optimal health and disease prevention.
I totally understand feeling overwhelmed when it comes to eating healthy and preparing your own meals but what if you could eat clean and have healthy meals already prepared for you. BREAKFAST, LUNCH AND DINNER options that are already waiting for you to just eat and enjoy. And what if these meals helped you lose weight, feel more energized and help combat health challenges so that you could live your BEST LIFE YET!!
INTRODUCING THE REBOOT — 30 DAY VEGAN CHALLENGE………
Join vegan chef Stephanie Hall in taking a break from the kitchen and giving your body and your health a full REBOOT. THE REBOOT 30 day program consist of specially designed meals that support the bodies natural weight loss and healing process. Delicious plant based cuisine will be prepared especially for you during the upcoming 30 Day Program. I'm literally taking all of the guess work out of eating plant based and I've developed the perfect solution that allows you to remove chemicals from you plate and transform your health and your life.
I do everything for you……
NO GROCERY SHOPPING
NO MEAL PREP
NO MENU PLANNING
NO CLEAN UP
JUST EAT AND ENJOY!!
SEE HOW TONYA LOST 18 POUNDS IN 30 DAYS INSIDE THE REBOOT – 30 DAY VEGAN CHALLENGE
THE REBOOT is a 30 day commitment and includes the following:
#1 MEALS FOR 30 DAYS - including:
Liquid Breakfast
Lunch
Dinner
Snacks
Dessert (limited to a certain amount of days per week based on the science of the program and your weight loss goals)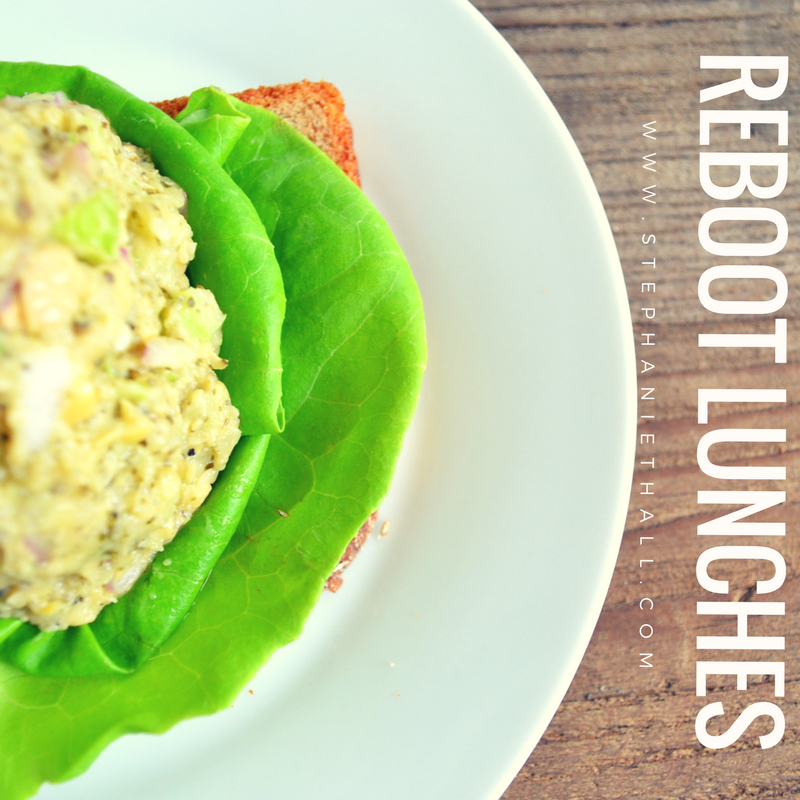 Menu options vary weekly and the program has a set menu plan. Items CANNOT be ordered ala cart at this time. HERE ARE SOME OF THE SAMPLE MENU OPTIONS INSIDE OF THE REBOOT PROGRAM: Fresh Green Smoothies, Fresh Nut Milks, Fresh Fruit Smoothies, Chipotle Kale Salad, Black Bean and Quinoa Chili, Mediterranean Flat Bread Pizza, Black Bean Burger, Cauliflower Steaks and much more!!!
There will also be additional recommendations made based on your weight loss goals and/or health challenges and the science of the program.
#2 – ACCOUNTABILITY &  SUPPORT - you will have direct access to me during business hours to provide you with individual support and guidance based on your unique situation.
#3 – 7 DAY VEGAN MEAL PLAN & RECIPES  (AVAILABLE FOR 1st TIME PARTICIPANTS ONLY) – upon completion of the THE REBOOT PROGRAM you will receive access to plant based recipes to experiment with for ongoing support on your plant based journey
THE NEXT REBOOT PROGRAM WILL BE STARTING ON JANUARY 4, 2018
Your time saving investment for THE 30 DAY REBOOT Program includes all meals plus support, accountability and resources to get you results and to support you on your wellness journey.
CLICK ON BUY NOW BUTTON BELOW TO SAVE YOUR SPACE AND JOIN ME IN JANUARY.



PLEASE COMPLETE INFO BELOW TO GET ON THE WAITLIST AND BE THE FIRST TO KNOW WHEN REGISTRATION OPENS FOR THE NEXT 30 DAY REBOOT CHALLENGE PROGRAM