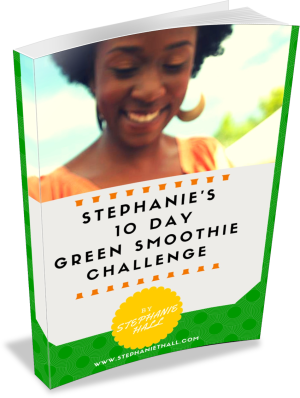 The 10 Day Green Smoothie Challenge Ebook is a downloadable guide where I'm sharing with you the quickest and easiest way to get started on your path to wellness by incorporating green smoothies into your diet for 10 days straight.
ARE YOU UP FOR THE CHALLENGE?
Plus I've included:
Go-to smoothie recipes that will help you with increasing your energy, weight loss, glowing skin and improved colon and gut health
A list of my favorite green smoothie boosters that are great for your  skin and for your hair and that will help stabilize your blood sugar levels, naturally curb your appetite and enhance your mood.
Simple ways for you to super charge your smoothies with more protein, more fiber, and more healing and rejuvenating properties.
Some of my best time saving tips that will have you in and out of the kitchen in no time and effortlessly making green smoothies like a pro;
Everything you need to know to get started and believe me its SUPER SIMPLE.
The Perfect Green Smoothie Formula as an added bonus so that long after the 10 Day Challenge is over you can still create your own green smoothies using ingredients that you absolutely LOVE
Here's what folks are saying about the 10 Day Green Smoothie Challenge Ebook………
"I absolutely loved the 10 Day Green Smoothie ebook!!! There are so many other smoothie books out there, but I'm glad that I chose this one. I love that it included tried and true recipes that are easy to make, but I really enjoyed how Stephanie shared her basic formula so that I could create my own recipes!!! Another reason that I love the book is because it wasn't gimmicky. Stephanie promotes good overall health, and I appreciate that. It makes me feel good about incorporating things that I learned from her. Previously I had been struggling to get the recommended servings of fruits and vegetables every day. The smoothie recipes made it easy for me to incorporate more plant based nutrition into my diet."~Yvonne J. Atlanta, GA.
 
"I'm still going strong with my green smoothies and I feel like I have so much more energy. Just feeling really good Thank you!!!"~Chauntey G. Aldie, VA
 
CLICK BELOW TO DOWNLOAD YOUR COPY AND GET STARTED TODAY!!!!
REFUND POLICY: This is a digital product. Since you will gain immediate access to this product this purchase is non-refundable.
CLICK ON THE BUY NOW BUTTON BELOW TO GET YOUR DOWNLOADABLE COPY DELIVERED DIRECTLY TO YOUR INBOX.