Have you been wanting to eat more plant based meals but not sure where to start?
Do you need an impressive plant based meal option for an upcoming event?
Do you know the benefits of eating plant based but just short on time?
I'd love to help and serve you ……
Delicious vegan meals are now available for you to reheat and enjoy at home.  With my vegan meal prep service I've curated a menu of some of my most popular plant based dishes that are now available for delivery if you are located in DC, MD or Northern VA.
Here's how it works…….
Make your menu selections from the menu below

Place your order on Monday for a Friday delivery

or

place your order on Wednesday for a Sunday delivery

(

NOTE:

Delivery is available in Ashburn, Reston, Herndon,  Sterling, Leesburg, Tysons Corner, Farifax, Chantilly, and Gainesville, VA.
If you are located in MD or DC pick up location is available in Tysons Corner, VA. Please contact me directly via email at info@stephaniethall.com for alternate pick up locations if you are beyond the delivery radius.
Submit your payment online ((

NOTE:

 There is a $95.00 minimum requirement to place an order)
Receive your order on Friday or Sunday. You will receive an email to confirm your address and to coordinate drop off and/or pick up time.
If you have questions on menu items or would like an alternate drop off date then please send request to info@stephaniethall.com
Here's what clients are saying about the food………
 Stephanie all of the meals were GOOD!!! Some of my favorites were the vegan crab cakes and the vegan pulled pork sandwiches. Both really tasted like the real deal…….I also found the portions to be plentiful and easily able to feed 2 people. However the HIGHLIGHT was that it was nice to take a break from cooking without having to eat out. Plus my palate was delighted to enjoy spices that I don't usually cook with. I would highly recommend this service to those who are considering a vegan diet or those wanting to eat clean and take a break from the kitchen. 
 Vegan Menu Selections
Lunch and Dinner Selections
Vegan Crab Cakes – 16 cakes/2 cakes per person ($95.00)
3 Cheese Vegan Lasagna w/ vegan ground beef- (8 servings) $95.00
Vegan Chili w/Vegan ground beef (gluten free) (8 servings) $80.00
Curry Chickpeas w/ Kale – (8 servings) $75.00
Stuffed Sweet Potato w. Cauliflower, Chickpeas and Thai Peanut Sauce (8 servings) $77.00
Ancient Grain Millet and Veggie Croquettes w/ Onion Gravy (8 servings/2 cakes per person) $80.00
Falafel Bowl (includes falafel, black lentils, quinoa, homemade tahini dressing, mixed greens) – (8 servings) $95.00
Vegan Ground Beef Taco Salad (includes vegan ground beef, quinoa, pico de gallo, red cabbage, mixed greens, cilantro lime dressing) -(8 servings) $105.00
Red Lentil (Daal) (8 servings) $65.00
Cauliflower Steak w/ Quinoa and Chimchurri Sauce (8 servings) $95.00
Click on the Add To Cart below to ORDER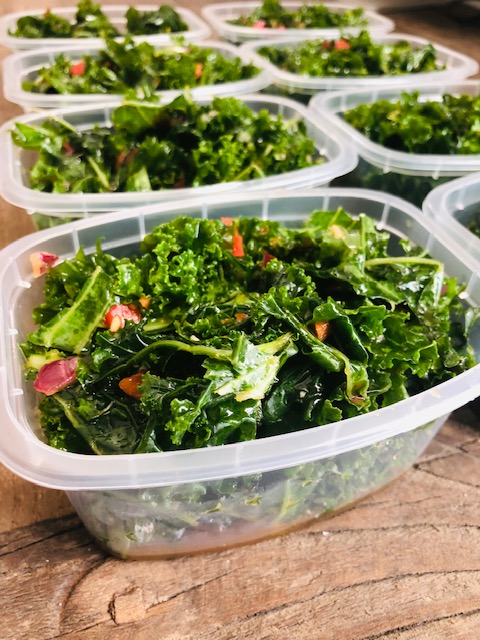 Vegan Side Dish Selections
Sauteed Spinach (8 servings)$50.00
Braised Kale (8 servings) $65.00
Garlicky Green Beans (8 servings) $55.00
Southern Collards (8 servings) $65.00
Curry Cabbage (8 servings) $65.00
Broccolini (8 servings) – $65.00
Shaved Brussels Sprouts (8 servings) $60.00
Chipotle Kale Salad (8 servings) $65.00
Sweet and Spicy Kale Salad (8 servings) $65.00
Roasted Sweet Potatoes (8 servings) $55.00
Click on the Add to Cart button below to ORDER
Raw Vegan Pizza (10 slices) $95.00
Raw Vegan Burgers/Sliders w/ cashew cheese and spicy bbq sauce (8 sliders) $95.00
Raw Vegan Veggie Wild Rice (8 servings) $72.00
Raw Vegan Spiced Plantains (8 servings) $65.00
Spicy Thyme Nut Pate w/ Cucumber Slices (8 servings) $72.00
Click on the Add to Cart button below to ORDER
Raw Vegan Dessert Selections
Raw Vegan Chocolate Mousse (8 servings) $70.00
Raw Vegan Strawberry Cheezecake (9 inch cake – 8 to 10 servings) $95.00
Raw Vegan Sweet Potato Cheezecake (9 inch cake – 8 to 10 servings) $95.00
Raw Vegan Cherry Cheezecake (9 inch cake – 8-10 servings $95.00
Click on the Add to Cart button below to ORDER